What is the Road to Homeownership?
The Road to Homeownership (formerly known as the Building Blocks to Your Future Home), is a quarterly seminar focused on helping the community learn about different topics such as: understanding your credit, predatory lending, obtaining a mortgage loan and protecting your credit.
All of the topics listed above are essential for preparing to owning a home.
Each seminar is targeted to provide all of the necessary information in a way that the general public can understand.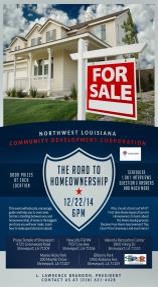 Recent Testimony on the Road to Homeownership:
The most recent seminar of the Road to Homeownership was on April 20, 2015.
"It was great, very informative." – A. Williams